B2B MARKETING "DIRTY DOZEN:" 12 QUICK-HIT IDEAS THAT ACTUALLY WORK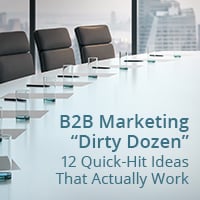 B2B marketing has never been more measurable, trackable, and accountable. In fact, it's easier to get to documented ROI than ever before. But not everything works, and not everything works the same.
Chase Bank welcomes Joel Goldstein as its presenter for this webinar. Joel is president of Goldstein Group Communications, a national B2B digital marketing and branding agency headquartered in Solon, Ohio.
Based on his firm's 30+ years of experience in B2B and digital marketing, this webinar will outline how to implement the 12 most important initiatives – the "Dirty Dozen" – that will drive your revenue while you reduce your cost/sale.
Fill out the form to watch the webcast.